Reverse Learning Or Flipped Classroom Model Is The Real Need
1st April 2022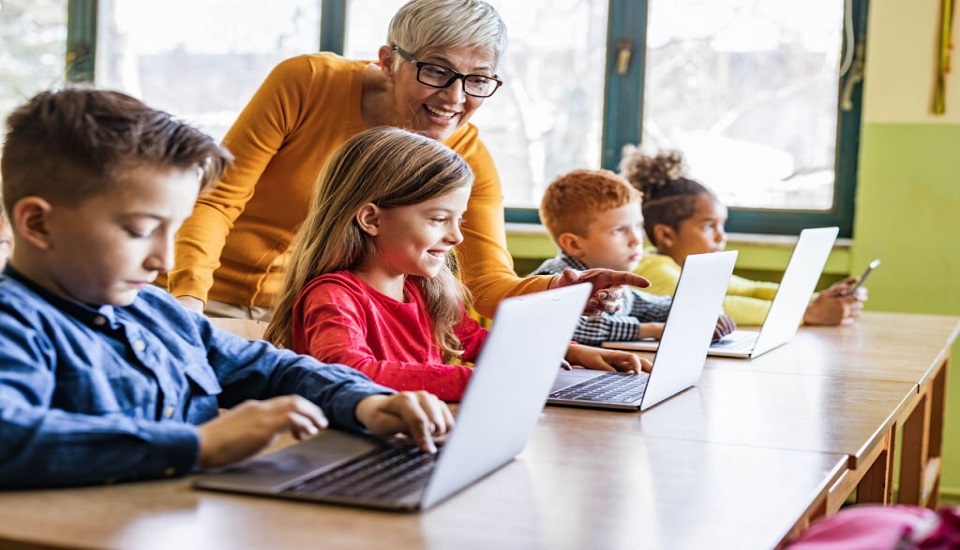 A flipped classroom is considered to be a boon for students these days because the strategies used in this approach are absolutely beneficial for students who are struggling with their academics. Jonathan Bergmann and Aaron Sams, high school chemistry teachers, brought the idea of the flipped classroom for the very first time. The impact of a flipped classroom model is so grand that pre and primary teacher training courses are preaching this model to a great extent.
FLIPPED LEARNING:
Flipped classroom teaching strategies stand on 4 main pillars are Flexible environment, Learning culture, Intentional content, and Professional educator. It is a pedagogical approach where direct instruction moves downward from the group learning zone to the individual learning zone. The resultant group as an outcome product is transformed into a dynamic, interactive learning environment and students engage themselves to the fullest under the supervision of experienced and skilled educators.
Also known as reverse learning, flipped classroom method involves the introduction of a lesson to a student at home. When they arrive at school the next day, they practice that particular topic followed by assigning some home tasks which they finish once they go back to their homes.
TRADITIONAL CLASSROOM VS FLIPPED CLASSROOM:
In the case of the traditional classroom, the lesson plan is introduced in the class where the teacher lectures a batch of students regarding the nitty-gritty of that topic. Later, when kids go home they do assignments to understand and practice that lesson. To be more specific, a traditional classroom is lecture-oriented whereas a flipped classroom is activity-oriented.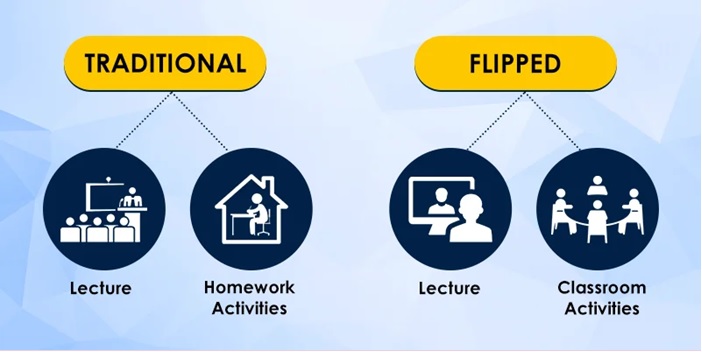 Image course:
https://images.app.goo.gl/AEnywT6qUtNc4TEZ8
Primary schools are encouraging the reverse learning concept as they believe that students will progress better when they are actively working on any lesson in the classroom. Kids in pre and primary schools are a maximum of age 5-6 years old and during this phase, their mental and cognitive development rate is quite fast-paced. This is the reason why teachers are practicing flipped methodologies so that their activities in the classroom are quite high.
As soon as the learning material is introduced to students at home, they are asked to go through the lesson once before coming to school the next day. This phase will generate queries in the minds of students which in turn will be worked upon in the classroom session either face-to-face or online.
When students are introduced to a chapter in the classroom session followed by a practice session, they do not get ample amount of time to go for self-study. Owing to this, often students do not understand the points where they might have some issue. They face problems will doing homework as their queries remain uncleared. This is one of the biggest drawbacks of a traditional classroom and hence, teachers are shifting to a flipped classroom model.
REVERSED BLOOM'S TAXONOMY AND REVERSED LEARNING:
This is an inversed pyramid that smoothly explains how a reversed learning process under the supervision of professional educators is effectively helping students to grow and perform better. Students can finish the lower level of cognitive work before class. When they come to class the next day, they can engage in higher cognitive levels of learning with peers and teachers. This active learning method is helping students a lot and it has been observed that not only the kids but any age group are getting benefits from a flipped classroom model.
WHO ALL GETTING BENEFITED THE MOST?
Busy students.
Students who are struggling with their academics.
Students who lack social interaction.
Students who cannot interact much with teachers.
Besides, a flipped classroom is enhancing the classroom management structure to a huge extent. This particular method is helping teachers to understand their students better and the classroom culture has become evidently more transparent.
Implementing a flipped classroom model is not at all a tough job. The major focus is on planning the schedule because depending on that the outcome will vary. Thus while planning, key points must be outlined properly keeping in mind the capabilities and potential of the students.
Various strategies can be used in the classroom to elevate the level of active learning. Peer instruction is a great method of practicing a flipped classroom structure where students can ask for and share feedback with their fellow classmates. Collaborative learning activities enhance student engagement, which helps in student understanding and promotes collective intelligence.
BOTTOM LINE:
Having explained all those, now you can definitely understand why pre and primary teacher training courses are encouraging the practice of flipped classrooms. We are definitely not demeaning the traditional classroom format at any cost but keeping in mind the current demand of the educational system, a flipped classroom model is an impactful one.

Written By : Nilesh Singh
---